NHCA Youth Outdoor Soccer 2018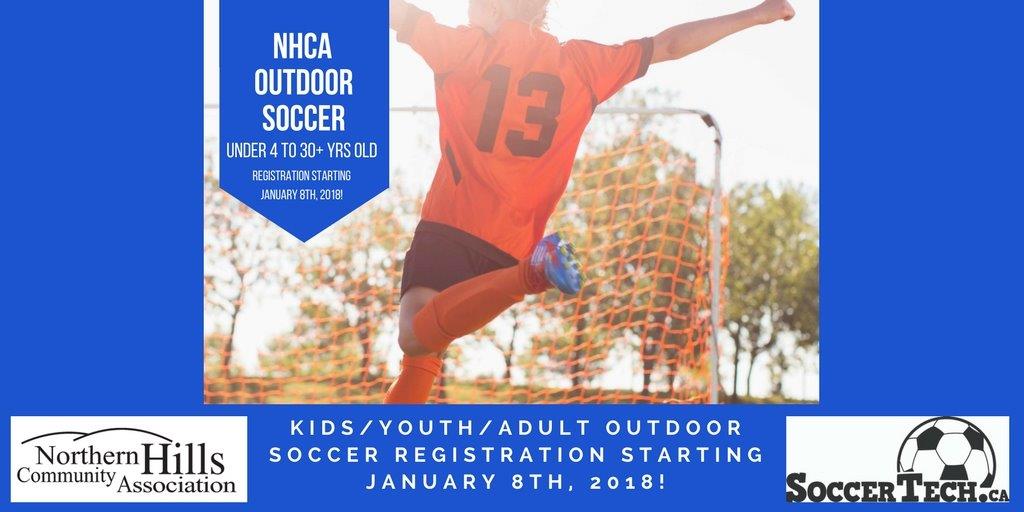 Registration Opens
January 8th
—————
Closes March 7th
⚽ Season Starts April 30th ⚽
We are getting ready for the new soccer season. Stay tuned for more details!
For the 2018 Outdoor season, the NHCA is proud to be working with SoccerTech to provide a better program for kids (U4-U12) and youth (U14-U18) players in the Northern Hills.

SoccerTech (a non-profit business) still delivers the same grassroots, fun, community soccer that the NHCA has provided in years past, but with skill development and community values as a core principle.
Northern Hills Community Soccer still provides a fun and safe environment for children ages 3-17 to enjoy the beautiful game of soccer. The emphasis is on participation, learning and acquiring both soccer and life skills, including a lifelong love of the game. We encourage involvement in your child's development and getting involved in your community, through parental volunteering. Providing great value, with fields conveniently located within the Northern Hills communities, we have a program that is perfect for your child.
The partnership with SoccerTech brings more benefits to players:
New, U5 age group: By providing U4, U5 and U6 leagues, the game can be better tailored to developing the skills and abilities of children between 3-5.
Professional tech instruction and support for volunteer coaches: No matter your skill level, you can feel confident that you will be able to coach your child's team better after instruction from SoccerTech's experienced, certified and licensed coaches.
Peer mentoring: SoccerTech believe in peer influence through junior coaching. Highly-trained, skilled and educated young players assist in their program as junior coaches and develop a core relationship with young players. This positive peer pressure has created success wherever their program has been implemented.
Access to year-round soccer: Through SoccerTech, the NHCA is able to offer access to an indoor program, soccer camps and more. If your kids are soccer crazy, there's no more waiting until next year – they can participate all year round!
For more information, please visit our kids' soccer frequently asked questions (FAQ) pages.
---
Soccer Program Contacts:
For soccer related questions (registrations, scheduling, jerseys, equipment, etc.) contact Jens Lipper, at SoccerTech, via email (jens@soccertech.ca) or phone (403-863-3001).