Stormwater System Upgrade
The City of Calgary has shared information on an upcoming outfall repair project in our community:
After the June 2013 Flood, The City of Calgary inspected the Bow and Elbow Rivers and Fish, Nose and West Nose Creeks for significant damage to outfalls and riverbanks. They identified 161 outfalls on the rivers and 53 outfalls on the creeks with damage and have prioritized them for repairs. This project involves replacing the existing outfall structure and stabilizing the riverbank near outfalls WNC2 and WNC3 (see map, below), located on West Nose Creek on either side of the creek North
of Beddington Trail NW near Harvest Hills Blvd N.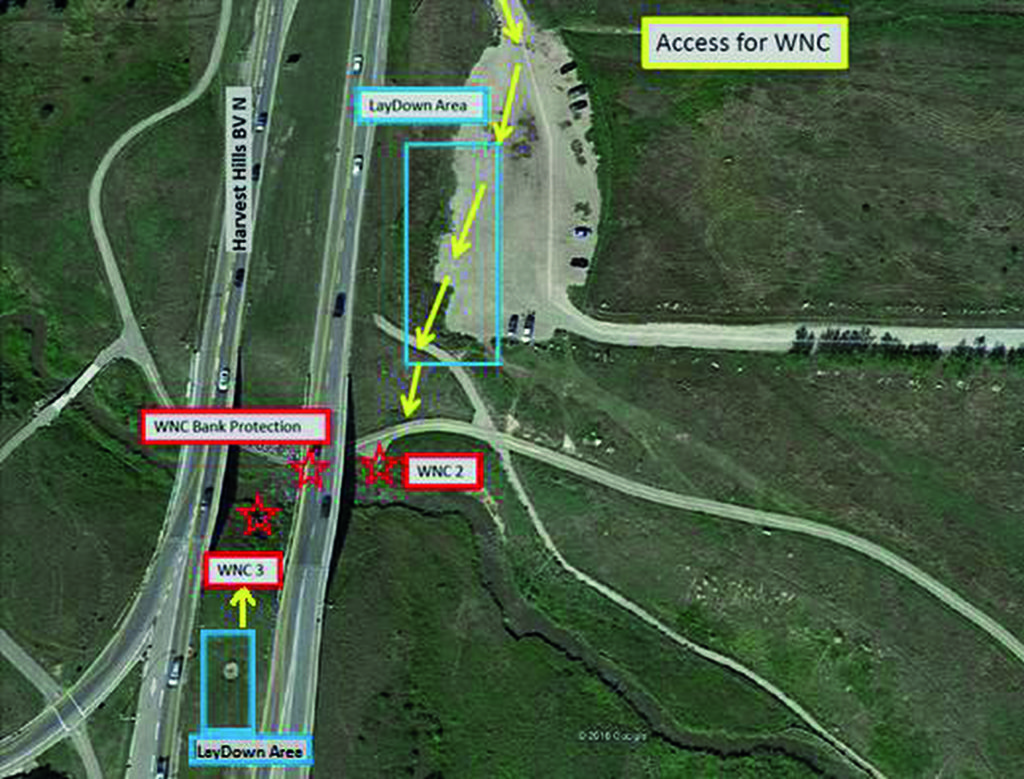 What is an outfall?
Stormwater is rain or snow melt from our roofs, lawns and roadways that enters the storm drains on our streets and travels through an underground pipe system eventually draining into our rivers. The site where the stormwater flows from the pipes and into the river is called an outfall.
Project details
Existing outfalls WNC2 and WNC3, including the bank and pathway opposite to outfall WNC3, were identified as damaged. This project will repair the damaged outfalls and stabilize the bank in the immediate area of the outfalls using riprap (large stones) to protect it from further erosion. Construction is expected to take three weeks to complete and will begin July 5, 2016.
Construction Impacts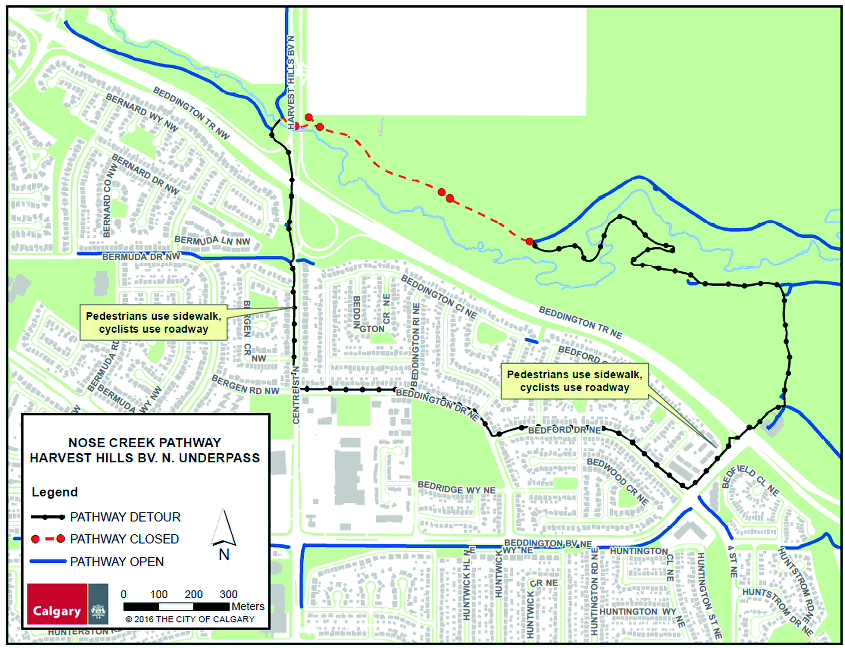 Access to WNC2 will be from the parking lot to the North of the outfall. Construction vehicles, equipment and a small lay-down area for supplies will occupy the parking lot to the north of outfall WNC2 during construction.
Access to WNC3 will be from the grassed median in between northbound and southbound Harvest Hills BV N. Construction vehicles, equipment and a small lay-down area for supplies will occupy the grassed median during construction.
Flaggers will be used to hold traffic on Harvest Hills BV N when equipment needs to be moved into or out of the construction site – these disruptions should be minimal.
A pathway closure and detour will be required for construction on the north bank of West Nose Creek (please see attached detour map).
Work will be performed from 7 a.m. until 7 p.m. for approximately three (3) weeks for WNC2, WNC3 and pathway repairs.
The temporary staging area and access routes will be restored to original condition following construction.
For more information
If you have any questions or concerns, or would like more information please contact 3-1-1 (24 hours, seven days a week) or visit calgary.ca.
The City of Calgary regrets the inconvenience their work may cause – your patience and understanding are appreciated.