Our Community Gardens
The NHCA is lucky to have two locations where we have community garden plots available for residents and community groups to enjoy growing fruit, vegetables, herbs and flowers for themselves, the community and the Calgary Food Bank, and the opportunity to host gardening workshops in 2017. For more information about these initiatives, please visit our Community Gardens page.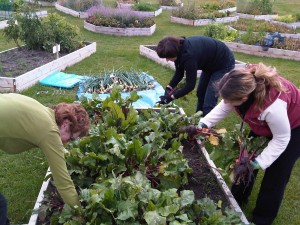 Registration:
Begins March 30, 2017 for returning gardeners.
Begins April 11, 2017 for new gardeners.
How to register:
For 2017 you can register online (see below) as well as in the NHCA office.
Registration forms for in person community garden plot registration for 2017 are available to download and will also be available at the NHCA office.
Cost:
4 x 12 – $30
4 x 8 – $20
All garden plot rentals require an NHCA membership, valid until Oct 31.
Help is available for low-income gardeners. Come and talk to our friendly staff in the NHCA office, located in Vivo.
All community garden plot rentals are valid for one growing season, from May 1st through October 31st of the year of purchase.
Online Registration:
To make it easier for gardeners to register, we are trialing an online registration this year. Payment can be made by credit card. To pay by cash, debit or cheque, please register in person in the NHCA office.
Log in to our registration and membership system. Top tip: if you are a returning gardener and have not logged in before, you will need to use your email associated with last year's membership, and click "forgot password" to be sent a new password.
If you haven't yet set up your profile, you will need to do so. A handy guide is available to download.
Type "garden" in the search bar on the top right. A list of the types of garden plots available will show. Select the type you wish to rent.
If you haven't got a current membership, a pop-up will appear. Please select the type of membership you need and then go back and select the type of garden plot you wish to rent.
Check your shopping cart (click on shopping cart on the top middle of the page) and complete the purchase, making sure you answer the questions associated with the gardens program registration.
Please make sure you read and accept the waiver/garden plot rental agreement.
Plot Selection and Volunteering for Online Registrants:
After you have registered, you can select your plot. Returning gardeners get first refusal of the same plot they rented last year; if you would like a different plot, please call the NHCA office and ask to be priority waitlisted.
Call the office to select your individual garden plot. For any returning gardeners registering for more than one plot, please let us know when you call to select your garden plot.

Only one plot (of the corresponding size) may be selected per registration/purchase.
Extra plots can only be purchased after all returning gardeners have been accommodated.
RETURNING GARDENERS: to choose which plot you would like to rent, please contact the NHCA Office after registering, and BEFORE 3:00 PM on APRIL 10th. This allows returning gardeners to re-select the same plot as last year, before they open to the general public.
NEW GARDENERS: plot choices will become available on April 11th. You will need to select your plot by adding it from the Products menu on the registration site.

Please select your volunteering (watering/mowing weeks and committee role) using the Eventbrite link for your garden (listed in the registration information).
---
For more information about the gardens:
Harvest Hills Community Garden harvestgarden@northernhills.ab.ca
Coventry Hills Community Garden coventrygarden@northernhills.ab.ca
For information about, or help with, registration:
NHCA Admin team admin@northernhills.ab.ca or call 403-226-6422
---
Terms & Conditions:
Preference will be given to residents from within the Northern Hills communities, due to restricted number of garden beds. Residents from outside of the Northern Hills will be waitlisted (unless being grandfathered in as a returning gardener) until availability is known (see Community Gardens Plot Rental Agreement).
Refunds for garden plots will not be given after May 1st, 2017. Prior to May 1st, 2017, refunds will be given, minus a $5.00 administration fee. Refunds are not given for memberships.
Gardeners must abide by the Community Gardens Plot Rental Agreement or risk being removed from the program and not allowed to register in future seasons. No refund will be given for any gardener who violates the terms of the agreement.
Gardeners cannot "opt out" of volunteering. It is the gardener's responsibility to find replacement volunteers should they be unable to manage their volunteering task, and to inform their Community Garden Chair.
All community garden plot rentals are valid for one growing season, from May 1st through October 31st of the year of purchase.