August 2017 Update
The plan is to create an urban oasis with robust planted areas of Native-to-Alberta plants, trees, and shrubs, a crushed limestone pathway, nature-themed picnic tables and benches, and an innovative play area.
The changes for this underutilized park space, specifically will include:
A New Playground
The goal for the innovative new play area is to broaden the demographic appeal and give the older children and youth somewhere to recreate. Currently Harvest Hills' youth find the playground equipment unchallenging, and the team want to offer them an area abounding with more imagination and play opportunities at a playground complemented by nature.
Naturalized Pod Areas
An important new addition to the space is the "Alberta Discovery Trail". The trail is a crushed limestone path that weaves itself through four naturalized pod areas. Each of the four pod areas will include a subset of native-to-Alberta, drought-tolerant trees, shrubs, and smaller plantings to provide a robust home for our varied local wildlife. The inclusion of these natural planted areas, designed to incorporate the best practices of water management and localized species of plants, would serve as an educational example to encourage similar projects in the surrounding communities.
Picnic Tables and B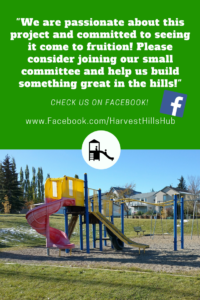 enches
Three new to the space picnic tables will facilitate family picnics, community gatherings, and community-led groups and classes. The team has engaged with the local high school, Notre Dame High School, wherein students in the carpentry and industrial arts classes will be designing and constructing custom nature-themed benches for the park space. This is an exciting way to include older youth in Harvest Hills and give them a sense of ownership. They also hope to incorporate a free library concept and bulletin board for the space.
Community Involvement
This is a collaborative initiative with a strong commitment from the local community. The group of volunteers working towards the construction of this community hub are all very passionate about getting other local residents involved. The team is fundraising locally, holding local information sessions, and planning for a build of the hub. Their collaborations with both Notre Dame High School and local businesses have been very positive and have helped create new relationships in the area. Continued benefits to the community will include a rejuvenated sense of community pride, creation of a welcoming community space, and offering an urban sanctuary that will attract residents from surrounding communities to visit and enjoy. By helping neighbours meet and connect at this site, in the long term the community will become inherently friendlier, and safer as neighbours watch out for neighbours. We are hoping this project will act as a catalyst and inspire other local groups to create committees aimed at enriching and improving our communities' resources and helping to green our city and give our city's wildlife a home.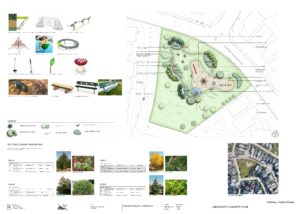 Future Impact
It is not a simple playground replacement, but the construction of a robust and dynamic Community Hub. Their dedicated committee is committed to the success of the project over the long term of turning this single use traditional tot lot into a genuine community asset for local groups. Group gatherings such as community parties, garage sales, playdates, fitness classes, art classes, etc will be encouraged and advertised through Facebook and our community newsletter. They will actively encourage neighbours to get involved in hosting public events and help facilitate connections and relationships.
Check their Facebook page where you can find more information on the project, ask any questions, and get a contact with their keen group of individuals!
Currently, the team is looking for Event Ticket Sellers to to help promote their upcoming events! Please find a position description here.
They want to hear from you!
May 2017 Update
1. HARVEST GLEN WAY PLAYGROUND
After many months of research and visioning, the Harvest Playground Committee, spearheaded by Meghan and Victoria, has been brought to life in the form of a conceptual drawing by IBI Group, thanks to a grant from the Parks Foundation Calgary. The grand unveiling was at the NHCA's AGM on Thursday, April 13th, at Harvest Hills Alliance Church, and we have since revealed the designs on our Facebook Page. The new design is also shown below.
The design encompasses not only some more challenging playground equipment so it appeals to kids of all ages, but it ties into the themes of "nature" and "motion" that the Committee based the design concept on. An artificial "tree" climbing frame, spinners, a hill slide and more will tie in to the beautifully designed Alberta Nature Discovery Trail that will wind around the site. Each "pod" will contain different native Alberta plant species (and possibly a giant insect or animal!) with an informative marker to educate visitors about the plants and animals they can find at the park. The species chosen are drought tolerant, being native to Alberta, as will be the grasses that have to be replanted, so that this is not only a much more user-friendly community outdoor hub, but better for our environment and water-wise as well. Our MLA's office is donating some of the plants towards this project.
In addition, this space has been designed to be a community gathering space – somewhere for families and community groups to come and enjoy a picnic, a chat or even a small, informal event. Picnic tables and benches are being designed and built by the shop teachers and students at Notre Dame High School, to make this a real community led project and something we can all be proud of!
THE HARD WORK BEGINS NOW
Now for the hard part – the fundraising to build this beautiful vision! At the time of writing, the Harvest Playground Committee has been putting together a fundraising plan. We are working with a candy company (Candyman Cory) to offer treats that donate back profits to this playground and outdoor community hub project. The committee will be out at community events selling candy, and going door to door in the community with order forms. If you receive one, please consider helping us to make this vision a reality for all of our community residents to enjoy!
If you can help with an order form drop, or attend to help out at one of the events, please contact Victoria and Meghan by email to: harvestplayground@northernhills.ab.ca
If you don't want to buy candy, but still would like to support this great community-led project, our Parks Foundation project account, which is active and can accept donations, is awesome for donors as donations of $25 or more qualify for a tax receipt. All donations for the "Harvest Hills Playground (Harvest Glen Way)" will go towards this fantastic project. No donation is too small: if every household in Harvest Hills donated just $5, we would raise over $10,000 to build this outdoor community hub for all to enjoy!
Personal Donations
(a) Download and fill out the Parks Foundation donation form and mail it to the Parks Foundation. Please select "Other" on the form, which we have already filled in for you with the "Harvest Hills Playground (Harvest Glen Way)" project.
OR:
(b) Donate via Paypal on the Parks Foundation's website. Please make sure you indicate which project you would like to support in the Instructions to Seller section by typing "Harvest Hills Playground (Harvest Glen Way)".
Whichever way you choose, tax receipts will be issued by the Parks Foundation for all donations over $25!
Business Donations or Sponsorship
Please contact our contract Marketing Manager (Heather) to discuss sponsorship options for our playground rebuild. Email marketing@northernhills.ab.ca or call the NHCA Office and ask to be put in touch.
2. COVENTRY COMMUNITY SPACES PROJECT
The NHCA and Vivo are working together on "Building Community in Coventry – The Coventry Outdoor Community & Recreational Spaces Plan".
As our residents know, in 2016 the City of Calgary approached the Northern Hills Community Association with a list of developer-installed playgrounds (mostly tot-lots) which were on their radar for life-cycling. The playground in Coventry Hills in the worst shape was replaced like-for-like last summer, and in the meantime, yet another playground has been identified in Coventry Hills as in need of replacement and added to the list for life-cycling.
As Coventry Hills has 14 playgrounds, all of which were installed within approximately a 10-year time span, we expect more to be added to the life-cycle list in the near future. Rather than be continually reactive, always playing catch up as playground equipment deteriorates, we would like to take a proactive stance and use an approach similar to that identified by VivaCityYYC for revitalization of the downtown commercial district in 2015.
Aims:
We would like:
To bring the community together to look at all of our outdoor recreational spaces and co-create a long-term community outdoor recreational spaces plan, with each little recreational / park space fulfilling a different need for the varying demographics in the community, rather than just replacing tot lots with yet more tot lots as they deteriorate.
The community residents to look at the community as a whole and improve access and a variety of outdoor community spaces and recreational amenities for not only all Coventry Hills residents, but those from the surrounding Northern Hills communities as well (Country Hills Village, Harvest Hills, Panorama Hills and Country Hills).
To engage Coventry Hills residents of all demographics in planning their outdoor recreational spaces for the future, creating a sense of ownership, volunteerism and pride in the community.
To co-create the most inclusive, but also cost-effective, long-term plan for the 14 playgrounds and park spaces in Coventry Hills, which will help everyone have access to outdoor recreational spaces and help the community to develop a long-term fundraising plan to achieve their collective goals.
To have different activities to suit the varied needs and wants of the community, spread throughout the community spaces to encourage movement from one to another by walking or biking, and neighbours from different areas of Coventry to meet and interact, which will promote community bonding and involvement. This could include a range of outdoor recreational and community gathering spaces; for example: a tot lot in one park, a garden and seating area in another; or a basketball court, adult outdoor gym, or even a fun cycling maze.
To encourage creativity and long-term engagement from community participants by actively engaging people to volunteer their skills and, even in the smallest way, to help create community within their community. In training resident volunteers to help in the baseline observations, and asking residents to come up with ideas for the spaces, we hope to empower them to view their community recreational / park spaces differently and take ownership in the project going forward, actively encouraging smaller groups to take on leadership roles for each of the project recreational / park spaces.
If you can help with community park observations as a volunteer, please contact Tracey Martin at Vivo before June 2017.
Check back here, in the Northern Edge News, and on both NHCA and Vivo's social media later in the summer and early fall for more on this project and for a sign-up to our planned community co-creation event. This World Café style, resident brainstorming session will be taking place in the mezzanine at Vivo during October. We hope to have up to 100 participants of all ages on the day, and to include students from the local schools, urban planning students and project volunteers.
We hope you will be as excited as we are to engage the community as a whole to create your future community outdoor spaces, for leisure, community gathering and recreation. We could put the plan together as a small committee, but we want to involve and get ideas from as many residents as possible, in order to build a collective vision, sense of community pride and ownership of this community recreational / park spaces plan!
---
January 2017 Update
Back in January 2016 we posted on this website that 6 of our community playgrounds needed to be "life-cycled"; in other words, the equipment was getting old and nearing the end of its useful life. These sites had to be considered for equipment replacement, or a change of use (e.g. park area, basketball court, different age demographic, etc.). We set up a survey to ask about use of these playgrounds and three had an overwhelmingly greater response than the others: The highest response was for the playground at 178 Harvest Glen Way, and two playgrounds came in equal for 2nd place: 980 Coventry Drive and 152 Coventry Circle.
ONE DOWN, FIVE TO GO…
We put a call out for a playgrounds committee, to help us with looking at which playground to consider first, and what to replace it with. However, rather than lose out on the funding for replacing a playground this summer, and because the playground at 152 Coventry Circle was in the worst shape, it was chosen to be replaced like-for-like by the City Parks Dept, at a cost of around $75,000.
Since then, the playgrounds committee members have been working hard to come up with a plan for the revitalization of the playground at 178 Harvest Glen Way.
HARVEST GLEN WAY PLAYGROUND
Two volunteers, Victoria and Meghan, have put in countless hours of research, meeting with playground committee reps from other communities and playground equipment vendors, visiting playgrounds and outdoor recreational spaces all over the city, going to playground symposia and playground equipment fairs, and talking with play and recreation experts… all since late this summer… whew! 
They have also done a site line survey and applied for a Parks Foundation account, which is now active and can accept donations (see "How You Can Help", below). This is awesome for the committee, as it means they can now start fundraising in earnest, and awesome for donors, too, as donations of $25 or more qualify for a tax receipt from the Parks Foundation!
In recognition of their efforts, and the part that free, outdoor recreational and green spaces play in a healthy community, the Board of the Northern Hills Community Association has budgeted $10,000 towards this community enhancement project. The first $5,000 was presented to the volunteers in November, to enable them to open the Parks Foundation account and start fundraising for the money needed to make their vision come to life in 2018.
THE PARKS FOUNDATION & OUR COMMUNITY ENHANCEMENT PROJECT
The Parks Foundation Calgary has supported many volunteer-driven initiatives in communities around Calgary, partnering in the development of new (and renovations of) parks, playgrounds and open spaces. Like the NHCA, the Parks Foundation feel that all children deserve safe and fun places to play and to learn. Playgrounds offer an outdoor space to activate their imagination, be physically fit, and develop their social and motor skills.
We all recognize the need for more accessible and challenging play spaces in our communities, and in our Northern Hills communities in particular, the NHCA recognizes the desperate need for more free, outdoor, community, recreational spaces for residents of all ages – not just the ubiquitous, builder-installed tot lots. We need rinks, basketball courts, soccer and football fields, and natural, green spaces to have a picnic, fly a kite, engage in free play or to simply kick back and relax! This is why the NHCA Playgrounds Committee is looking at the Harvest Glen Way playground rebuild from a different perspective: this will be more than just a simple replacement of an old, community tot lot playground. We are planning something BIGGER and better: a community outdoor space that everyone can enjoy. This is a whole community enhancement project, not just a playground rebuild. Sure, it will have some playground equipment, but it will be targeted at the changing youth demographics (it'll be much better than the "dumpster playground" the teens are currently using!) and suitable for children of all ages. It will also be a great place for residents of all ages with beautiful, natural spaces and features, a place for Northern Hills residents to gather and build community.
How You Can Help
1. DONATE
If you would like to help these hardworking resident volunteers with their fundraising efforts by donating towards this fantastic community-led enhancement project, you can:
Personal Dnations
(a) Download and fill out the Parks Foundation donation form and mail it to the Parks Foundation. Please select "Other" on the form, which we have already filled in for you with the "Harvest Hills Playground (Harvest Glen Way)" project.
OR:
(b) Donate via Paypal using the link provided on the Parks Foundation's website at: www.parksfdn.com/community-led-projects/ Please make sure you indicate which project you would like to support in the Instructions to Seller section by typing "Harvest Hills Playground (Harvest Glen Way)".
Whichever way you choose, tax receipts will be issued by the Parks Foundation for all donations over $25!
Business Donations or Sponsorship
Please contact our Executive Director to discuss sponsorship options for our playground rebuild. Email Moraig at: moraig.mccabe@northernhills.ab.ca or call the NHCA Office and ask to be put in touch.
2. VOLUNTEER
We need help both in the planning stages, and will need volunteers for the 2018 build itself. At the moment, Victoria and Meghan could always use your help with community surveys, fundraising and more. If you would like to help out by volunteering on the committee, please contact the Harvest Playgrounds Committee at: harvestplayground@northernhills.ab.ca
If you can help to start planning for the rejuvenation of another playground for 2018-2019 (we still have 4 more identified sites to look at: 2 in Coventry Hills, 1 in Country Hills, and 1 in Country Hills Village), please contact our Executive Director by email at: moraig.mccabe@northernhills.ab.ca