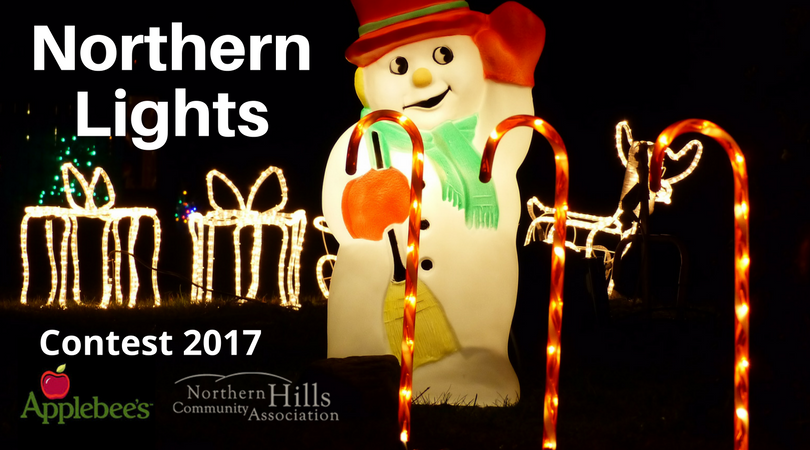 The NHCA Northern Lights Contest is an annual event open to Northern Hills residents that helps to brighten and spread the holiday cheer in our community. Millions of lights will once again decorate our houses, trees and fences creating that magical backdrop for the holiday season. We invite all Northern Hills residents to be part of this great event!
Entry Guidelines and Rules for the 2017 Competition
CONTEST PERIOD
The contest period starts December 1, 2017, and ends on January, 5, 2018.
ENTRY REQUIREMENTS
Entries should be submitted via: email to info@northerhills.ab.ca
You can nominate your own home, or any home in the neighborhood that showcase. Your submission should include the following:
For the nominated house:
At minimum, one photograph of good quality i.e. 300 dpi in jpg, png, or pdf format
The correct address of the home you are nominating
For the nominator:
Your name
Your home address
WINNER DETERMINATION
Nominated Properties:
Each Nominated Property entry will be reviewed by the contest judges and will be evaluated on first impression, colour coordination, attractiveness, mixed elements in the display, and originality. Feel free to include a short description with your submission. A photo of the winners will appear in the NHCA newsletter and at www.northernhills.ab.ca
Nominators:
This year we will be drawing Nominators at random! EVERYONE who nominates a property (as long as the contest rules are followed) has an equal chance at winning a prize!
PRIZES AND SPONSOR
The sponsor for the 2017 NHCA Christmas Light Contest is once again Applebee's Northpointe. THANK YOU Applebee's for sponsoring this community contest again this year!
A maximum of FOUR Nominated Properties winners will be selected from the entries: Winners get Applebee's gift cards as follows:
First place (overall winner) wins $200 in Applebee's gift cards
Second place wins $150 in Applebee's gift cards
Third place wins $100 in Applebee's gift cards
Fourth place (or special mention) wins a $ 50 Applebee's gift card
A maximum of SIX Nominator prizes will be randomly drawn from those who nominated a property. The nominators drawn will each win $50 in Applebee's gift cards!
NOTIFICATION FOR WINNERS:
Contest winners will be notified via the Northern Edge News and Canada Post mail, so please ensure you have the correct addresses in your entry!
CONTEST TERMS & CONDITIONS
Those interested in entering the contest must comply with the following contest terms and conditions:
The contest is open to Northern Hills residents and properties only. The Northern Hills communities consist of: Country Hills, Country Hills Village, Coventry Hills, Harvest Hills and Panorama Hills.
Your submission of an entry constitutes your representation of eligibility and consent to participate, plus your agreement to abide by all the contest terms and conditions.
All entrants agree to allow the NHCA and sponsor:

To use the photographs of their submission in any reasonable manner it sees fit; this includes posting on social media channels and website(s), inclusion in the NHCA community newsletter, and use in contest or community advertising in future years.
To use the nominator's name and/or address, and the nominated property address, in the NHCA newsletter and on the NHCA website and/or social media channels.

By participating in this contest, the nominator warrants that the photographs do not violate anyone's privacy. (Please don't submit photos with people in them!)
If you nominate your own house, and your house wins a Nominated Property prize, you become ineligible for the random Nominator prize draw.
If you have any questions about this contest, or the terms & conditions, please contact the NHCA via email at info@northernhills.ab.ca or call us at 403-226-6422.
We look forward to seeing all the wonderfully decorated houses and sharing your entries with the community!
HAPPY HOLIDAYS!