UPDATE: 07 Apr 2017 : Come to our AGM and see the awesome new plans for the regeneration of the Harvest Glen Way playground into an outdoor community hub with an Alberta Nature Discovery Trail!
Please join us at
Harvest Hills Alliance Church, 10099 Harvest Hills Blvd. NW (back room, not main hall this year)
on Thursday, April 13th, 2017
for our 2016 Annual General Meeting!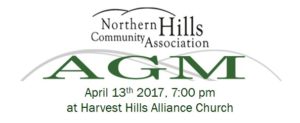 Doors open at 6:00 PM.
Come and chat with your neighbours
Share some refreshments courtesy of Good Earth Coventry and Famoso Neapolitan Pizzeria (Country Hills Blvd)
Meet and greet some of our elected officials, NHCA board members and the fantastic Coventry Building Safer Communities (Blockwatch) committee
Come and find out what the NHCA does for your community, from advocacy (schools, a health centre, planning issues, social support services) to programs, events and more
The AGM meeting starts at 7:00 PM, after which there will be a celebration of our community heroes and a great door prize draw.
Please support our local businesses, as they support us! Thank you to our refreshment and food sponsors, and donors of the door prize draws!

2016 AGM MEETING AGENDA
Call Meeting to Order
Introduction of Directors, Staff & Guests
President's Update
Approval of 2015 AGM Meeting Minutes
Approval of 2016 Audited Financial Statements
Appoint Auditors for the Year 2017
Present & Elect Slate of Directors for 2017-2018 term
Adjournment
To follow the business portion of the meeting:
Year in Review by Rick Lundy
Toole Peet Community Heroes Awards
Community Q&A
Thanks to Sponsors
Door Prize Draw
Please note:
Only paid up members of the Northern Hills Community Association, who live in the Northern Hills communities, can vote at our AGM, but we welcome ALL residents to come and see what we're all about, ask questions and see how becoming a member of your community association can benefit not only you (through our awesome Member Discount program as just one example), but everyone in our neighbourhoods!
If you are a member of the NHCA and would like a copy of our current bylaws, copies will be available at the AGM, or you can contact admin@northernhills.ab.ca and ask for a copy to be emailed to you. Please include your full name and registered address (or new membership "passcode" number) in your email.