NHCA Kids Outdoor Soccer 2018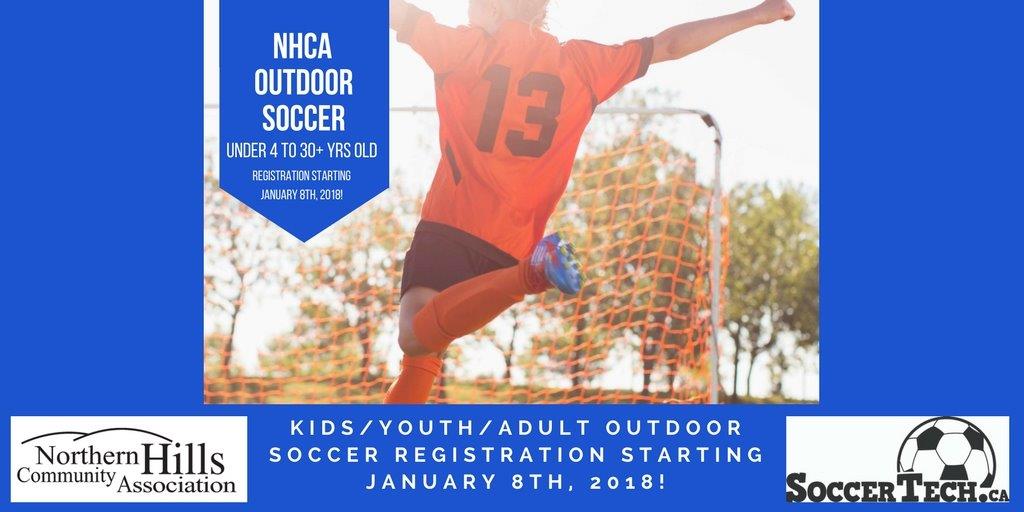 Registration Opens
January 8th
—————
Closes March 7th
⚽ Season Starts April 30th ⚽
For the 2018 Outdoor season, the NHCA is proud to be working with SoccerTech to provide a better program for kids (U4-U12) and youth (U14-U18) players in the Northern Hills.

SoccerTech (a non-profit business) still delivers the same grassroots, fun, community soccer that the NHCA has provided in years past, but with skill development and community values as a core principle.
Northern Hills Community Soccer still provides a fun and safe environment for children ages 3-17 to enjoy the beautiful game of soccer. The emphasis is on participation, learning and acquiring both soccer and life skills, including a lifelong love of the game. We encourage involvement in your child's development and getting involved in your community, through parental volunteering. Providing great value, with fields conveniently located within the Northern Hills communities, we have a program that is perfect for your child.
The partnership with SoccerTech brings more benefits to players:
New, U5 age group: By providing U4, U5 and U6 leagues, the game can be better tailored to developing the skills and abilities of children between 3-5.
Professional tech instruction and support for volunteer coaches: No matter your skill level, you can feel confident that you will be able to coach your child's team better after instruction from SoccerTech's experienced, certified and licensed coaches.
Peer mentoring: SoccerTech believe in peer influence through junior coaching. Highly-trained, skilled and educated young players assist in their program as junior coaches and develop a core relationship with young players. This positive peer pressure has created success wherever their program has been implemented.
Access to year-round soccer: Through SoccerTech, the NHCA is able to offer access to an indoor program, soccer camps and more. If your kids are soccer crazy, there's no more waiting until next year – they can participate all year round!
For more information, please visit our kids' soccer frequently asked questions (FAQ) pages.
---
What's New?
The NHCA has a new membership and registration system:
If you have not already done so, you will need to set up a user profile and add your children and other family members, before you register your children for soccer. Please ensure you have added your family members to your profile (download this handy guide if you need help to do this) and extended your membership to them before trying to register. Screenshots for how to extend your membership are available on our Membership page.
For a step by step guide for registering for programs in the new system, please visit the "NHCA Registration System How To Guide" page.
Need help?
For SOCCER PROGRAM questions, please contact Jens at SoccerTech. He can be reached by email at: jens@soccertech.ca or by phone on: 403-863-3001.
For REGISTRATION questions and help, please contact the NHCA Office.
---
NHCA Soccer Terms & Conditions
Program Policies
ABUSE OF ANY SORT IS UNACCEPTABLE AND WILL RESULT IN THE NHCA REFUSING ENTRY INTO THE SOCCER PROGRAM OR TO ALLOW CONTINUED PARTICIPATION IN THE SOCCER PROGRAM.
Children must play in the Age Group assigned to their year of birth. By parental request, a child can be moved up to an older age group, but NOT down.
Parent(s), or a designated caregiver; is required to be at the soccer field while a child is participating in soccer.
The NHCA and its volunteers will make every effort to place children on teams with one friend, but when registering it must be reciprocal by both parties.
The NHCA cannot accommodate play field requests.
The NHCA soccer registration software calculates eligibility by YEAR OF BIRTH. If your child turns 13 in this calendar year, they are considered ineligible to play U12 soccer and must register for the U14 (Youth) soccer division.
Slide tackling is NOT allowed in the NHCA soccer league.
Cancellation & Refunds
(1) In the event a program is cancelled by the NHCA, you will be notified in advance and all fees paid for the sports program will be reimbursed. Memberships will not be refunded.
(2) Late registrations (March 1 to March 24, 2017) will only be accepted if there is room on a team roster, and will be subject to a $20 Late Fee.
(3) Refunds due to cancellation by the registrant will be given prior to February 28th, 2017 subject to a $25 administration fee per player.
(4) Refunds due to cancellation by the registrant will be given from March 1 until March 24th, 2017 subject to a $50 administration fee per player.
(5) REFUNDS will not be given after March 24th, 2017, if a registrant cancels.
(6) NHCA Membership and Late Registration Fees are not refunded.
See our Purchase and Refund Policies page for further information.