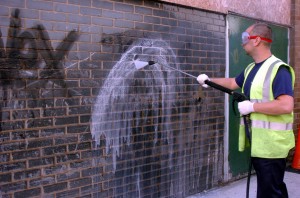 The Northern Hills Community Association has adopted a "zero tolerance" approach to graffiti.
In 2011 we started a committee to deal with graffiti issues in our area. This committee liaised with city and police departments to report and remove graffiti.
In 2016, this has become an integral part of keeping our communities safe and beautiful to live in, a joint effort between the Building Safer Communities and Community Beautification committees.
If you are interested in helping out with Building Safer Communities, or would like to join or help to set up a group in your neighbourhood, contact bsc-coventry@northernhills.ab.ca
If you are interested in helping to keep our communities beautiful, by planting flowers, helping with community clean ups, or more, contact community@northernhills.ab.ca
What is Graffiti Vandalism?
Graffiti is any inscription or drawing that is placed on someone else's private property without their consent. It can be done by a variety of methods that include spray paint, markers, acid, pen, etc. Graffiti is a crime. It is not an artistic expression or an attempt at beautifying the neighbourhood. When it is done without the property owner's permission, it is a crime.
Graffiti is the beginning of the deterioration of our communities. Most graffiti vandalism is not gang related, but if graffiti vandalism is left unchecked, other criminal elements will begin to start their activities as the perception of the community is that no one cares or has control over the area (broken window theory).
It is important not to ignore graffiti and, even more importantly, to understand its significance. Graffiti should not be taken lightly. It lets you know that individuals are trying to gain control of your neighbourhood.
How Does Graffiti Affect Our Neighbourhoods?
Graffiti leads to the overall psychological and physical decline of your neighbourhood. It is vandalism and the destruction of property.
If graffiti is not removed, this action will be interpreted as a sign of low neighbourhood pride, and graffiti will spread to other buildings, street, and properties. Soon, graffiti will be on every block in your neighbourhood.
Property values will decrease, residents will begin to feel hopeless and afraid to enjoy simple pleasures such as walking in the neighbourhood without fear.
It is critical that graffiti be recorded, reported, and removed immediately in order to avoid the decline and apathy of the neighbourhood. The window of opportunity, to deter future graffiti incidents, is 72 hours. If graffiti is removed within that period, from its first appearance, it minimizes the opportunities of its return or implications.
Why Does Graffiti Exist?
Graffiti is a crime that is based on recognition. Vandals will use it to mark territory, to announce their arrival in the neighbourhood, or to provoke other graffiti vandals. Graffiti is about promoting one's ego by gaining recognition within the graffiti sub-culture by having their vandalism seen everywhere.
Very little of graffiti vandalism is gang related. It is important to report graffiti vandalism so that a proper determination of the type of graffiti can be made. It will allow the vandalism to be addressed and the appropriate actions can be taken to address the people/group responsible. Some people think that graffiti is artistic. Don't be fooled, graffiti is a crime. It is applied without the owner's consent and is malicious destruction of property.
How Can You Control Graffiti?
The most effective way of controlling graffiti is to eliminate it from your property immediately. Graffiti vandals pay very close attention to the areas that seems to ignore incidents of graffiti. This is an indication of a "lack of caring" on behalf of the neighbourhood. If neighbourhoods don't care about graffiti, what else don't they care about?
Keep a look out for graffiti vandals. Pay particular attention to young adults or youth that hang around buildings, fences, garages, or public areas.
If you see someone in the act of doing graffiti, notify the Police immediately! If the crime is in progress, call 911. If you have been victimized by graffiti, please report it to the City of Calgary. This call will be directed to the appropriate area for their attention and future follow-up in aiding your community's efforts in controlling graffiti and investigating the responsible graffiti vandals.
Parents, be on the alert for signs that someone in your home may be contributing to the graffiti problems. Pay particular attention to aerosol paint containers around the home, paint or marker on their binders or school books. Have you seen this in your neighbourhood? If you do have suspicions that your family member may be involved in graffiti crime, confront them immediately. Be persistent!
Record
If you see graffiti vandalism, record its exact location, colour(s), type of property, conveyed message, date it was first seen, and identifiable markings. If possible, take a digital photograph of the vandalism. This assists in investigations to identify and hold offenders accountable.
Report
Report the graffiti vandalism online at www.calgarypolice.ca (click on "online reporting"), or to the City of Calgary by calling 3-1-1.  All reports will be investigated to verify whether the graffiti is vandalism (illegal) or urban art (with permission).
If you see graffiti vandalism in progress, call 9-1-1.
You can also report tips anonymously through Calgary Crime Stoppers by phone at 403-262-8477 or 1-800-222-8477, or online at www.ttttips.com ("submit a tip").
All photos or questions may be directed to the Graffiti Vandalism Unit by email to cpsgraffiti@calgarypolice.ca or by calling 403-206-8324.
Remove
The City of Calgary requires that graffiti vandalism be removed within 72 hours. This reduces the chance of more vandalism, sends a message to offenders that defacing property is not acceptable, and takes away the recognition that vandals seek.
Painting over graffiti is often the easiest and most cost-effective way to remove it. ICI Paints and Cloverdale, in partnership with the City of Calgary, offer discounts on graffiti/paint remover and paint-over products through the Graffiti Abatement Program.  Check the City of Calgary's website at www.calgary.ca/animalservices or call 3-1-1 for details on these and other programs to assist graffiti removal. Be sure to follow all product safety and use instructions, and wear rubber gloves.
Block the graffiti vandalism from view until it can be cleaned up.
It is an exciting, enriching and rewarding experience to take back a community. To clean it up and watch it grow and prosper. But, it requires a sustained commitment. Frequently, after an area has been cleaned and the graffiti removed, the vandals return and apply new graffiti. This is a test of community tolerance. Be prepared to return and remove graffiti however many times it takes before it stops reappearing. Eventually, the graffiti vandals will give up and you will have succeeded in taking back your community.
For more crime prevention tips, visit www.calgarypolice.ca.
Private Graffiti Abatement Program
The City of Calgary is partnering with residents and business owners in an effort to remove graffiti from private property. Under the program, residents will call 311 to report graffiti on their property. They will be asked to pay a $25 fee and sign a waiver granting a City contractor permission to remove the graffiti. There is a $100 removal fee for businesses. All revenue will be reinvested into the program.
For more information, visit calgary.ca/bylawservices or call Laura Shott at 403-268-1880.
Feel proud that you are making a positive contribution to save your neighbourhood.
Remember, the community you beautify is your own!
Report graffiti to: City of Calgary, City Call Centre: 311
For further information about graffiti vandalism contact: Calgary Police Service Graffiti Unit: 403-206-8324