Every gardener knows under the cloak of winter lies a miracle – a seed waiting to sprout, a bulb opening to light, a bud straining to unfurl.  And the anticipation nurtures our dream.
Barbara Winkler
The NHCA community gardens are dedicated to bringing together neighbours to provide locally grown food for their families, the Calgary Interfaith Food Bank and other interested groups.  The garden promotes community, organic growing methods and a sense of shared responsibility and team work.
Calling all gardeners, would you like to:
Grow your own vegetables, flowers and herbs?
Support the Calgary Interfaith food bank?
Help grow your gardening community?
Meet new people?
Then you need to join us in the NHCA community gardens!
Community gardens in the Northern Hills have plots available for the upcoming season.
Community Garden Locations:
Coventry Garden, opposite Nose Creek School in Coventry Hills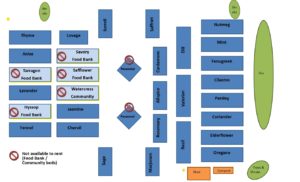 A plot map of the community garden beds for Coventry Garden is also available to download in PDF format.
Harvest Garden, at the end of Harvest Lake Drive NE, by the lake in Harvest Hills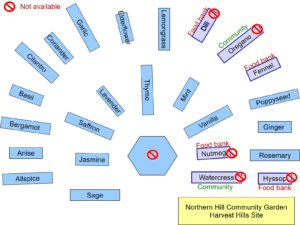 A plot map of the community garden beds for Harvest Garden is also available to download in PDF format.
---
Community Gardens Initiatives
Tackling Food Poverty
Each garden has several plots set aside for growing fresh food for the Calgary Food Bank. Hundreds of pounds of fresh produce are donated from each garden every fall.
There are also specially labeled "Community Bed" plots, where gardeners grow strawberries, carrots, or other produce. Please don't pick until the fruit/veg is ready and remember that this is a shared resource for all residents in the community.
Education
Our gardeners work with teams from Nose Creek (Coventry) and Ascension of Our Lord (Harvest) schools, and Vivo's Healthy Living School (Coventry), helping children to learn about where their food comes from, healthy living initiatives, composting and more. These wonderful children also help our gardeners to grow and harvest food for the Calgary Food Bank.
In 2017, we have been granted permission to use some of our restricted funds to host educational seminars and workshops for gardeners in the community. Keep a look out in your Northern Edge News, or on our Facebook page for gardening events coming to our neighbourhoods soon!
---
Registration:
Begins March 30, 2017 for returning gardeners. All returning gardeners will be sent an email with a link and password to obtain online registration information on March 30.
Begins April 11, 2017 for new gardeners. Check back Apr 11 for an online registration link and information.
How to register:
You can now register online as well as in the NHCA office.
Registration forms for in person community garden plot registration for 2017 are available to download and will also be available at the NHCA office.
Cost:
4 x 12 – $30
4 x 8  – $20
All garden plot rentals require an NHCA membership, valid until Oct 31.
Help is available for low-income gardeners. Come and talk to our friendly staff in the NHCA office.
All community garden plot rentals are valid for one growing season, from May 1st through October 31st of the year of purchase.
---
For more information on how you can get involved please contact:
Harvest Hills Community Garden  harvestgarden@northernhills.ab.ca
Coventry Hills Community Garden  coventrygarden@northernhills.ab.ca