Thank you all for coming to the Business & Services Fair on Saturday!
We hope you enjoyed it fully and got some great products and services out of it! The NHCA encourages local residents to #shoplocal and support your own community businesses.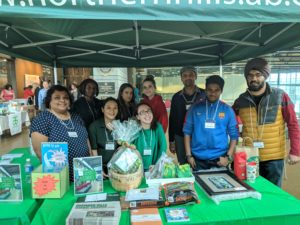 Huge Thanks to our great, hard-working, and fun volunteers! Without them this event, won't be possible 😊
Are you interested to know what businesses and services were out there?
Here is the list of vendors:
Business Name
Business Contact Info
Description of the business
Bing's Accessories
christinaincanada1314@yahoo.ca
Hand made personal accessories.
403-988-1182
Crystal Ink
www.crystalink.ca
Independent Publishing Studio and Pop-up bookstore.
403-708-8093
Usborne Books
usbornebylili@gmail.com
High quality, educational children's books that make learning fun!
403-889-5162
Arbonne
403-510-0983
Arbonne is skin care and nutrition.
Skaai Skin Care
www.skaai.ca
Manufacturer of affordable vegan and natural skin care products without commercial preservatives, colors and fragrances.
403-650-5690
EHSpro
www.ehspro.ca
Environment, Health & Safety services to small businesses and non-profits.
587-434-0384
Ideal Reality Lifestyle Management – Weight Management
idealrealityltd@gmail.com
To educate on how to achieving a healthy and Ideal weight and maintaining a healthy lifestyle through coaching and meal planning.
403-460-2136
Stella & Dot, Independent Stylist
www.stelladot.com/KeriBruce
Jewelry and Accessories direct sales.
403-922-3215
Purple Bow Photography
purplebowphotography@gmail.com
Newborn, Maternity and Family Photography.
587-434-8564
Avon
www.avonbylinda.blogspot.com
Avon is cosmetics, seasonal holiday items and fashion.
403-383-0317
Wilson Lentz LLP, Chartered Professional Accountants
www.wilsonlentzllp.ca
Wilson Lentz LLP are north Calgary Chartered Professional Accountants provides tax, accounting, and advisory services to businesses and individuals.
403-226-9194
Fairouz Arabic Language Academy LTD
www.fairouzacademy.org
We offer Arabic Language courses to children aged 4-12 using a fun filled approach. Classes are either on weekends or after school on a weekday. We also provide Arabic language courses for Adults. We also have a book store offering a wide variety of Arabic books for children and teens.
587-703-5036
First Calgary Financial
www.firstcalgary.com
Credit Union providing full service banking
Business Fair Sponsor!
JEI Learning Center
calgary.jeilearning.com
After-School academic aid by teaching students with booklets from individually diagnosed programs.
403-266-5223
Country Hills Dental Centre
www.countryhillsdental.com
Dental Office
403-226-1809
Sunglow Wholesale & Retail
singlowcrafts@gmail.com
Handmade crafts, jewelry, fashion, home decor
403-918-1866
iSmart Insurance
www.ismartinsurance.ca
Insurance
403-475-9898
NIRVANA Essential Oils
nirvanaessentialoils@gmail.com
We are selling 100% Authentic Essential Oils at a very affordable price
403-774-8965
Sun Life Financial
www.sunlife.ca/maria.cabanting
Financial advice on: Life Insurance, Critical Illness, Disability, Emergency Medical Travel Insurance, Investments (RRSP, RESP, TFSA), Personal Health Insurance, Group Benefits.
403-828-6933
Calgary-Northern Hills Constituency Office
Mr. Jamie Kleinsteuber (NDP)
Government – MLA
MLA for Calgary-Northern Hills
Business Fair Sponsor!
403-274-1931
Liberty Tax Service
www.libertytaxcanada.ca
Tax Service
403-457-8826
REMax House
www.calcity.ca
Realtor
403-829-8844
Spirit of Math
www.spiritofmath.com
Mathematics enrichment for high performance students.
calgary@spiritofmath.com
403-450-3405
Good Earth Coffeehouse Coventry HIlls
www.goodearthcoffeehouse.com
Local Coffeehouse serving fresh hot beverages and fresh baked goods.
587-755-4248
Bayal Toor
www.lawbt.com
A boutique law firm with contemporary approaches to legal problems, Badyal Toor works collaboratively with clients to provide expert advice about the best path forward to meet your legal needs.
403-457-0722
Saturday, November 18th, 2017
9:00 AM – 1:00 PM
*~*~*~FREE~*~*~*
We have a wealth of businesses and services in the Northern Hills, and there are some great special deals to be had at this once a year event!

Resident and Guest Participants
FREE entry to the NHCA Business Fair
Come on down to Vivo and support your local businesses and bag a bargain at the same time!
Stop by the NHCA tent with your Passport to Business to be entered into the prize draw
Keep an eye on a list of business participants the will be added once registration begins
SOMETHING FOR EVERYONE
FREE PRIZE DRAWS
VISITORS: Grab a copy of our free Business Directory on your way in. Have the Passport to Business in the middle stamped by at least 12 vendors and bring it back to the NHCA tent to enter our free prize draw! We have lots of prizes to give away…
VENDORS: Leave your business card at the NHCA tent and be entered in our free vendor draw!
For information about what special offers our vendors will have on the day, like us on Facebook to see our vendor specials posts!
Independent business entrepreneurs can help rejuvenate a healthy economy in our communities, and they need your support to make it happen. The NHCA encourages residents and business owners to conduct business while at the fair. So come and check out what businesses and services are offered in your communities and neighbourhoods, and look out for those special deals for NHCA members and residents!
*~*~*~*~*~*~*~*~*~*~*~*~*~*~*~*~*~*~*~*~*~*~*~*~*~*~*~*~*~*~*~*~*~*~*~*~*~*~*~*~*~*~*~*~*~*~*~*~*~*~*
Vendors
COST: $60 per table. $50 per table for our Business Plus Members!
WHERE: Mezzanine at Vivo, 11950 Country Village Link NE, Calgary T3K 6E3
WHEN: Saturday, November 18th, 2017, from 9:00 AM to 1:00 PM
WHO: Open to Businesses and Services located in and around the Northern Hills communities (That's You!)
WHAT: The focus of this event is to showcase local businesses to residents and guests. This also provides a low cost advertising and networking opportunity for business owners
Table(s) available on a first come, first served basis. Tables and chairs will be provided and assigned by the Events Director
Power access is available for an additional $10 charge (Limited), first served basis. (You will be offered the power upgrade during checkout.)
A Quick Reference Business Directory of all participants will be available at the Fair
Product Sales are permitted, however No Soliciting, please!
Requires to arrive between 8:00 am and 8:30 am to set up
Deadline to register is @noon, November 9
** Please note: If your business is: chiropractic, physiotherapy, massage therapy, fitness and/or preschools, we are unable to register your business at this event. For more information: admin@northernhills.ab.ca
Thanks to all those who support the Northern Hills Community Association by purchasing memberships and to our sponsors of this event.
---
BUSINESS/SERVICE REGISTRATION
REGISTRATION OPENS September 28th, 2017. An NHCA Membership is not required to participate. In order to register online, if you don't already have a membership with us, you will need to first set up a user profile. Our handy guide can take you through the steps, or you can call our friendly office staff for help. Registration is available online or in person at the NHCA office.
Tables are only $60 (including tax), and include advertising in a take-home directory, a directory listing on our website event page and in our community newsletter, and entry into a free prize draw for participating businesses. Table cloths and skirts are not provided. $10/Table Discount applies for Business Plus Members only. You can upgrade to a Power Table for $10 (limited quantity available).
A paper registration form is also available to download here: Business Fair Registration Form 2017.
Please see the general terms & conditions and purchase and refund policies below.
---
Business/Service Registration
General Terms & Conditions, and Registration Requirements:
Open to businesses & services located within and around the Northern Hills Communities.
Please note: If your business is Chiropractic, Physiotherapy, Massage Therapy, Fitness and/or Preschools, we are unable to register your business at this event. For food and beverage companies, you may not be able to sell food or beverages at the fair, but may be able to provide free samples of some food items – please contact us for more information. Contact: info@northernhills.ab.ca
An NHCA Membership is not required to participate, but discounts apply for Business Plus Members.
A limited number of power-access tables are available for an additional $10.00 per table.
Businesses are welcome to purchase multiple tables – to add an additional table, please click 'purchase' again.
Registration is available online or in person at the NHCA office:

OPENS September 28th, 2017;
CLOSES at 12 NOON on November 9th, 2017;
The NHCA reserves the right to close registration as soon as the table limit has been reached, or extend the deadline.

Tables are available a first come, first served basis.
Tables and Chairs will be provided. Tables are rectangular and 6 feet in length.
Product sales are permitted, however:

Only products legal for sale in Alberta will be permitted.
Clothing racks and product displays are permitted (within your designated space).
No soliciting allowed.

Please arrive to set up at 8:00 am. Businesses MUST be set up by 8:30 am or we reserve the right to refuse entry (no refund will be given).
Payment and Refund Policies
Our general Purchase & Refund Policies apply. In addition to those listed, the following also apply:
Refunds will be given, minus a $20.00 administration fee, until Nov. 9, 2017.
No refunds will be given for cancellations after Nov.9, 2017.
This refund policy applies regardless of registration date.